Satdreamgr image v4.0-O.E. 2.0

Additions made by the Sat Dream Gr Τeam

New skin Satdreamgr-HD-TranspBA and new spinner
- Addition of the Panel+ in which you will find several basic tools for your receiver
and many Greek free transmission channels and radios
- Full Greek Language in Enigma2 (new translation)
- Mod of the default skin
- Addition of Device Manager
- Extra Feeds

Thanks to OpenPLi for open basic code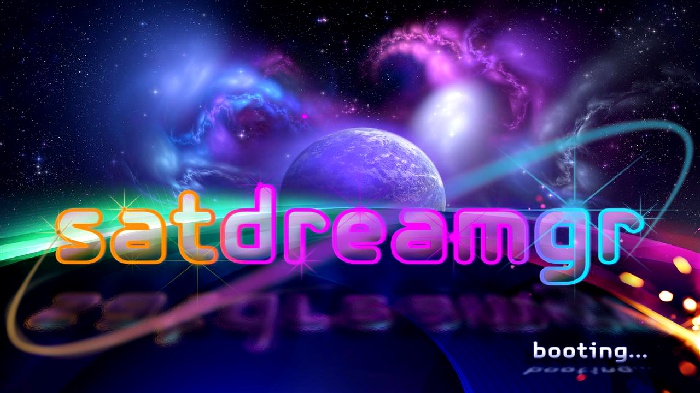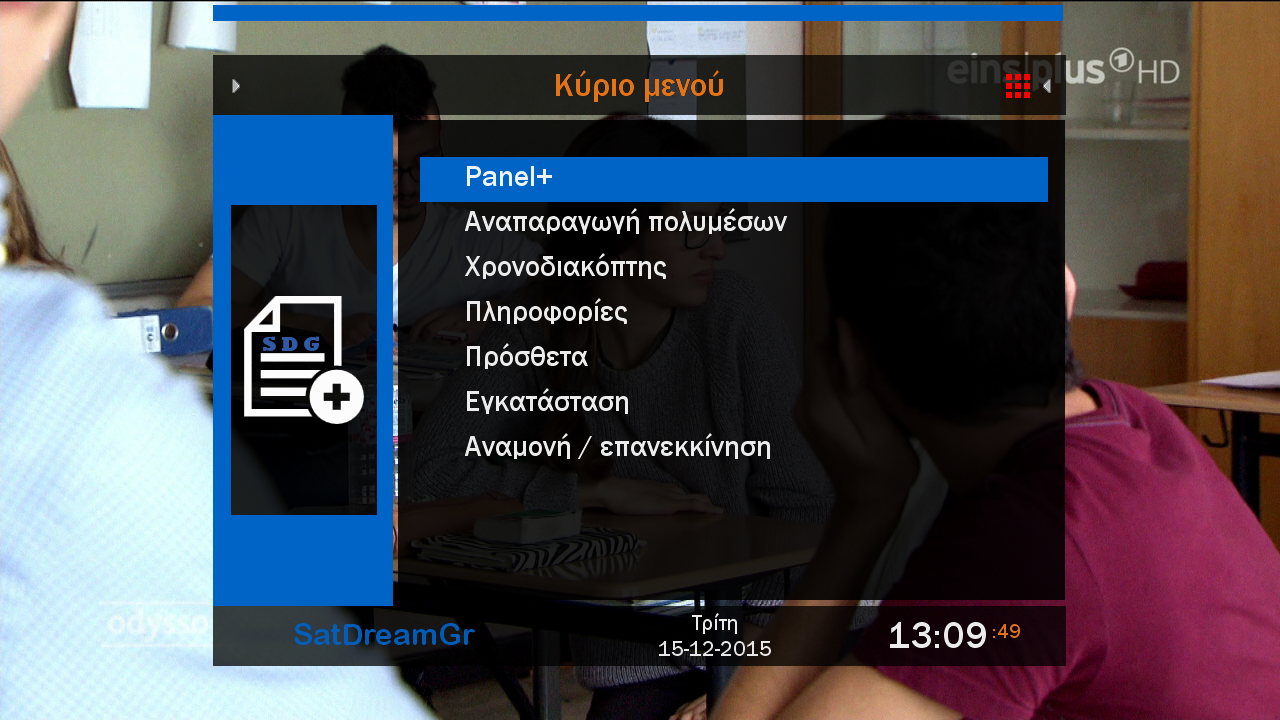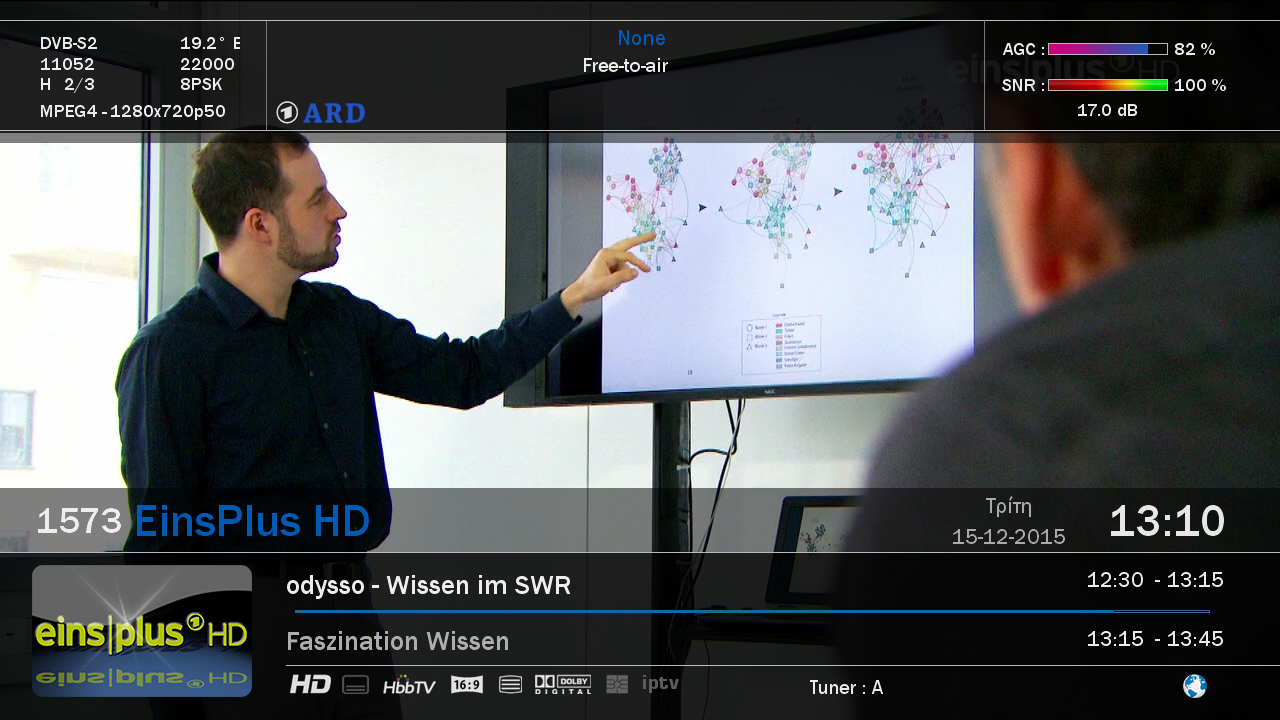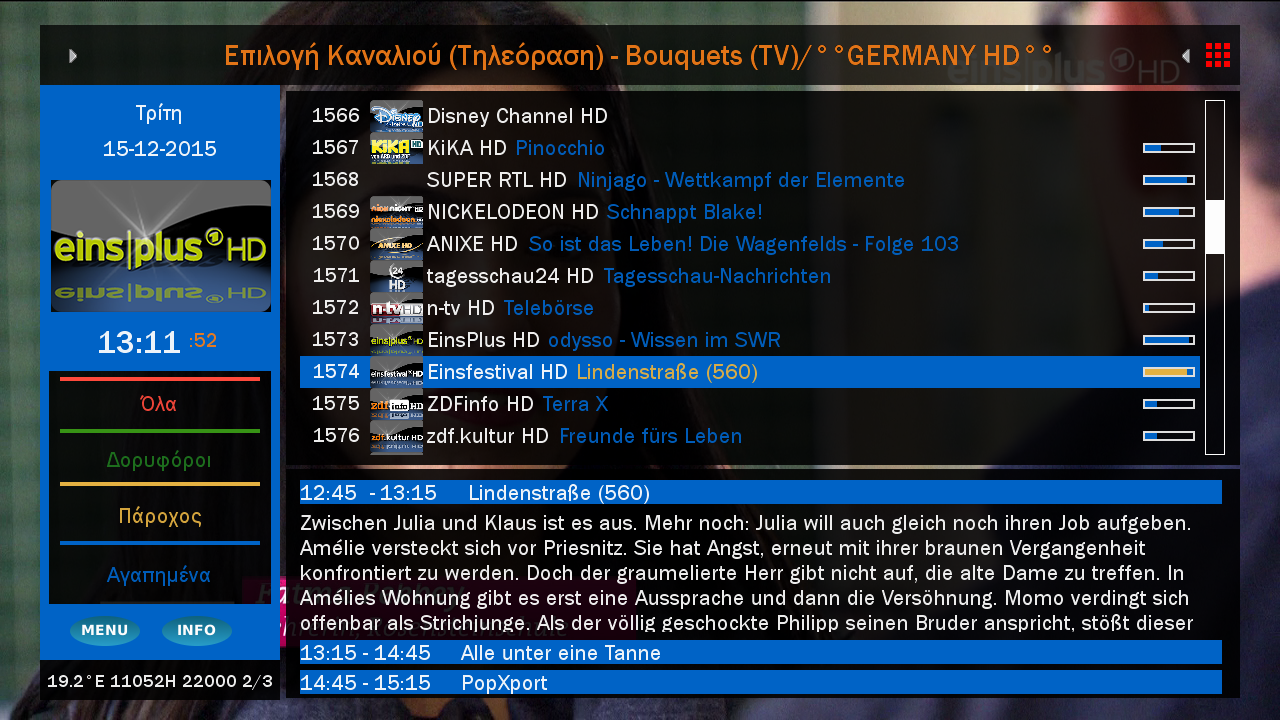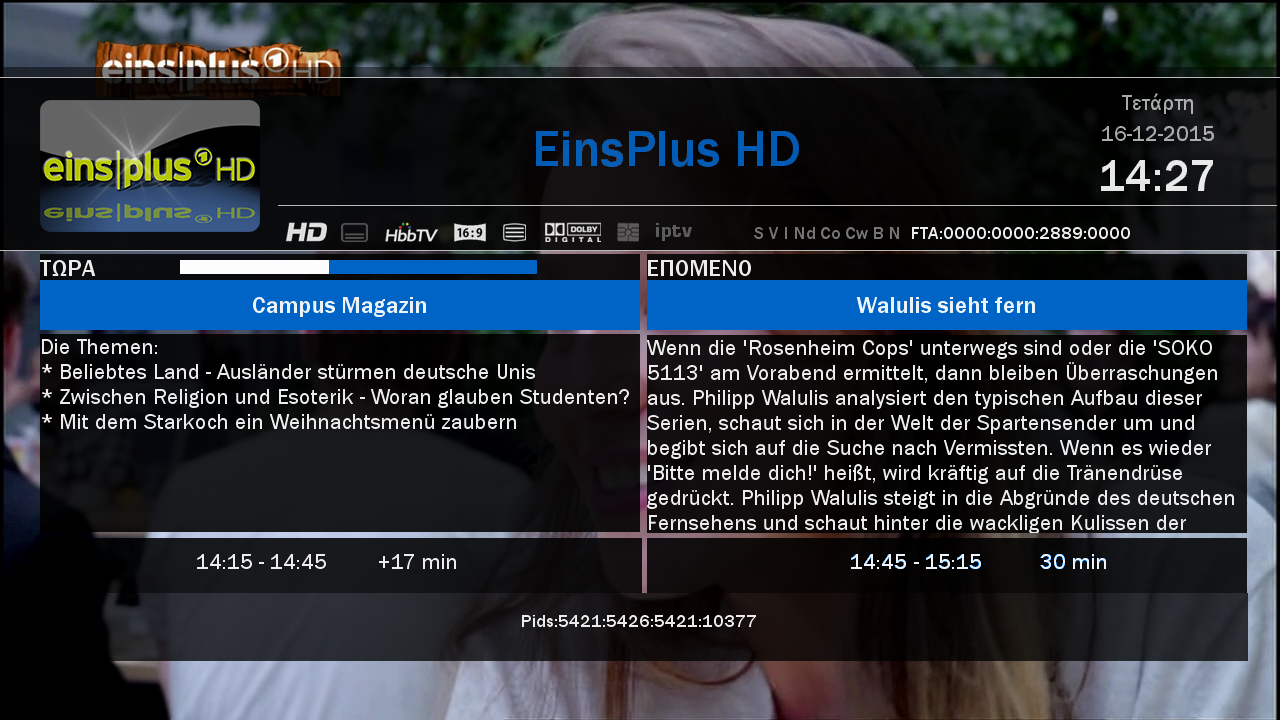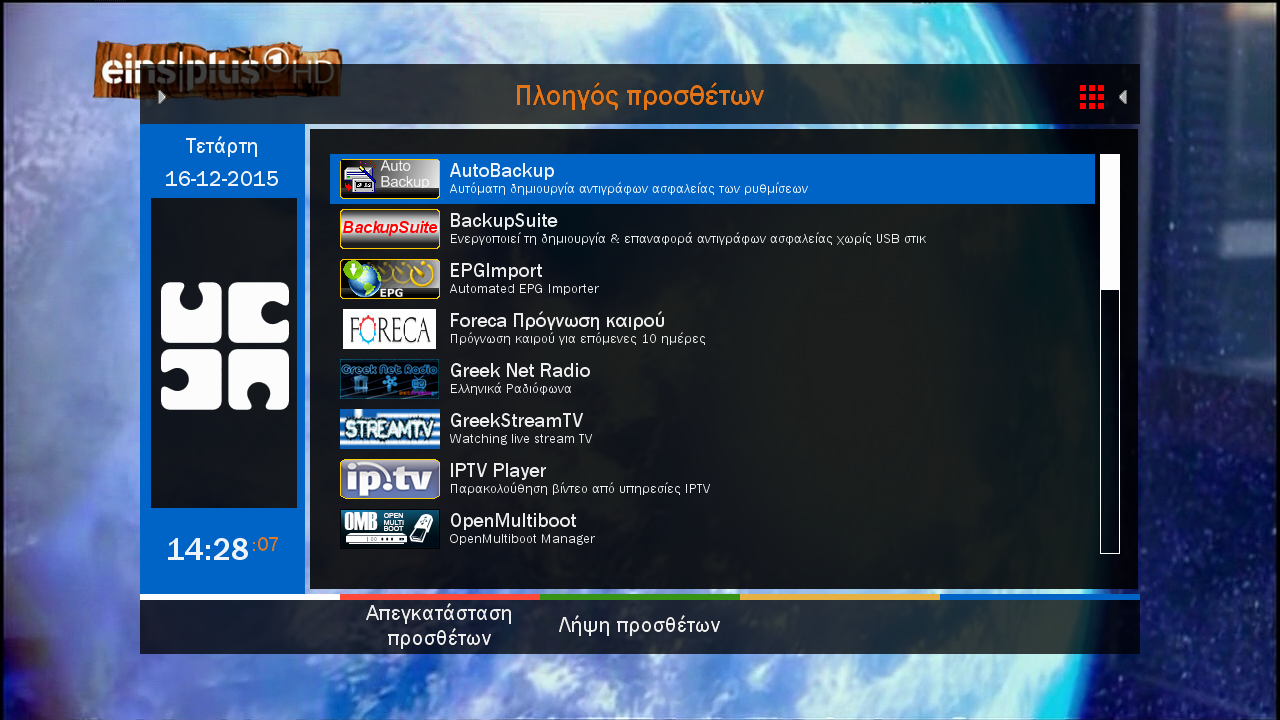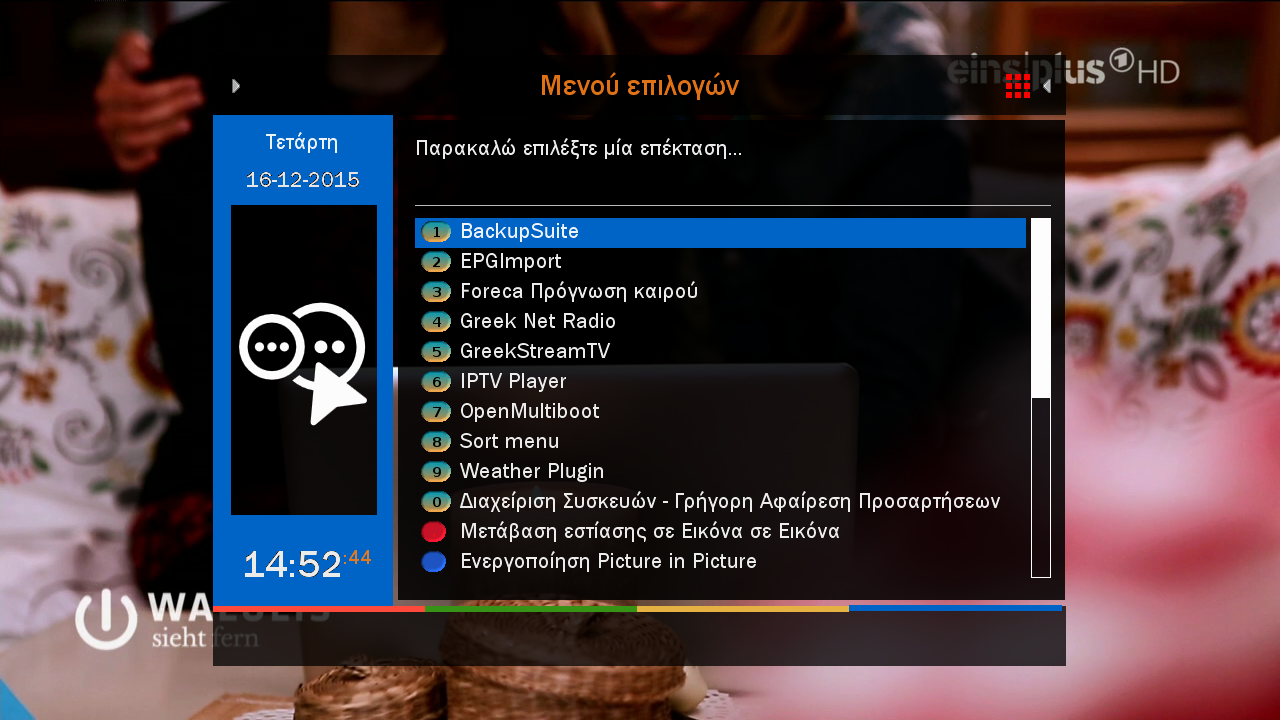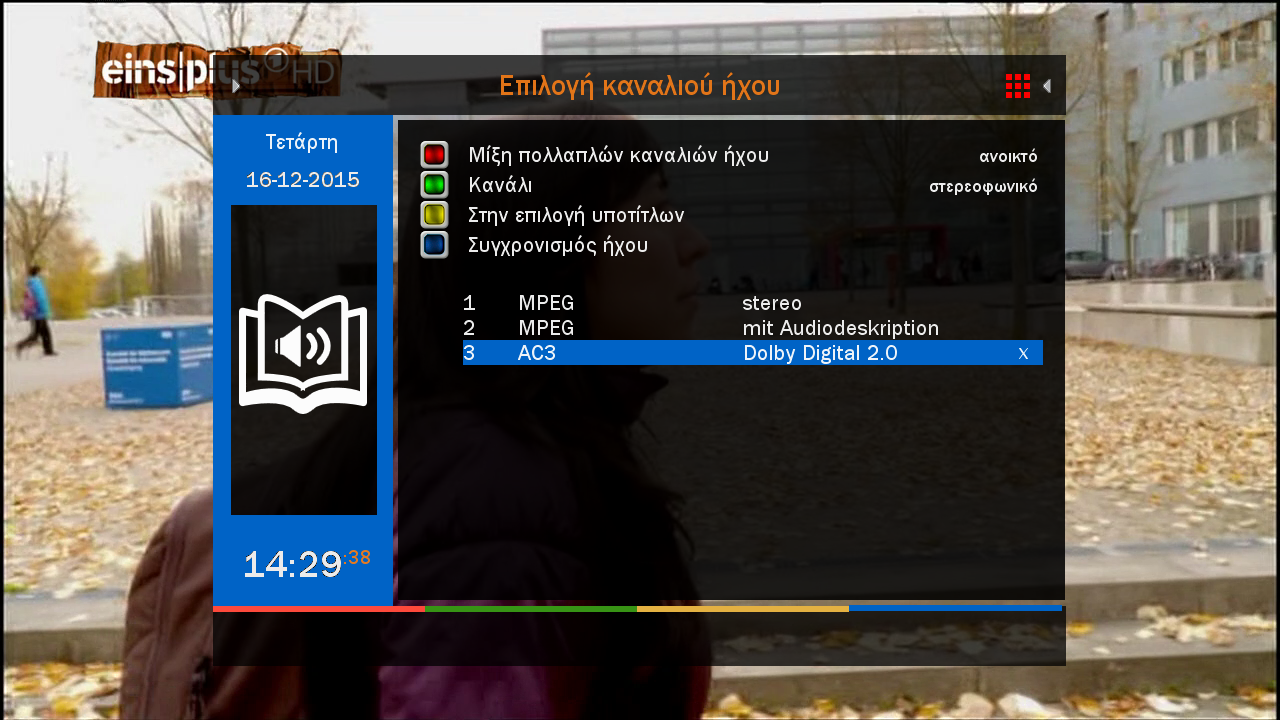 latest changes

Enigma2 Changes

Code:
b709634 VideoMode: add 2160p mode if hardware supports it
a4b4910 Videomode: Add class name in print messages to aid when debugging
b49140e Add windowTitle when open ChoiceBox
692593a GUISkin: add getSkinTitle
2a2dbf8 ChoiceBox: add check for the original title of the skin
70b32b9 Enigma2: Make User-Agent header HbbTV compliant
38335df Locale: fix 23dd65d3f message duplication.
08f37e0 CommonInterfaceAssignment: fix check the value
566f48c CommonInterfaceAssignment: fix read xml file
a6cd13f Update Latvian translation
8513020 update ru.po
5021d6f Update Greek translations, thnx glamourservices....
71900ec Change some title translations, to avoid add a new very similar and repeating
88edce9 ChoiceBox: add set window title
58ead6b Add workarounds for invalid transponder ID's on 7.0E and 26.0E
2b0591b Fix rgb profile and optimize added timer_autotimer.png
71e2eed fb: fix check for framebuffer size
f46f533 LCD: fix for devices without LCD
618907a TimerList: add icon Autotimer
0589bf6 Enable exit to movie list with key exit in MoviePlayer, thx vvv2
f559412 EventView: fix edit timer if not change setup (key exit)
23dd65d update ru.po
2f367dd ChannelSelection: BouquetSelector add title translation
85e5c49 DBoxLCD: Initialize _buffer to prevent segfault
82758a2 add stream client gui info
cfe2caf Update Turkish translations, thnx. asiBenlik.
c4f28ff Update French translations, thnx Pr2
5abec42 eHttpStream: allow to set custom User-Agent header
b25dded eHttpStream: set http headers also to redirects
45bc1e1 eHttpStream: allow to set http headers without path in url
bbe71fa Revert "ServiceMP3: send evUpdatedInfo only the first time bitrate changes"
67e7966 framebuffer: cosmetic updates
45c0209 volume control: cosmetic updates for ALSA support
b0039ef rcinput: cosmetic debug
695f7fc InputDevice: show devicename on debug output
6882a93 Update Latvian translation
b1657bb InputDevice: show devicename on debug output
b139196 DBoxlcd: cosmetic whitespace
ac97704 DBoxLCD: keep tidy when no device is found
3f1a855 summary screens: only processs when defined
ff33d88 servicemp3/record: remove unused variable
eaaf45c MediaPlayer: remove unused UserAgent configs
d300360 servicemp3/record: User-Agent can be set also by rtsp source
ab5ec75 servicemp3/record: unambiguous usage of User-Agent header
OE Changes
Code:
0ad66c1 meta-dream: Update kernel to 3.2.68
054f1f3 Update HansSettings to dec 14 2015
49050a2 xtrend: update bsp
66019f8 fakelocale ru_RU LC_TIME: change month names to genitive,
for grammatically correct displaying of date
9ed23d1 e2openplugins: update.
b709d32 Revert "e2openplugins: update"
6c07546 e2openplugins: update
bdec030 meta-vuplus: update bsp
80ff967 xsarius: update bsp
706e28d meta-vuplus: update bsp
db7c22f xtrend: update bsp
53b9c0d settings-autorestore: Create logfile from autoinstall script
6e61802 Update oscam to rev.11196
c2488a0 xtrend: update bsp
f95cf43 rtorrent: update source URI, the domain has vanished.
5f751bc libtorrent: update source URL, the domain has vanished.
7394970 Icesat settings: update
aa01e9a meta-vuplus: update bsp
Satdreamgr-4.0-beta-et5x00-20151215.zip